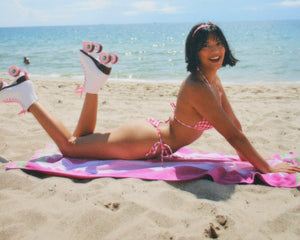 Let's Go Party
---
Burdash Bikinis Let's Go Party Summer 2023 collection features timeless silhouettes and over the top prints - In our eyes it's the perfect combination of sweet and sassy. Inspired by vintage styles from the 70's and 80's, we brought a modern spin to the classics we love.
Buttery soft, sustainably sourced fabrics are hand-picked, cut and sewn with love to craft each unique bikini to fit every #BurdashBody beautifully. 
Every Burdash Bikini is created with the soul intention that every time you step into your swimwear, you step into your ultimate, most confident self. 
With love and gratitude,
Caity Burdash
Founder, Burdash Bikinis