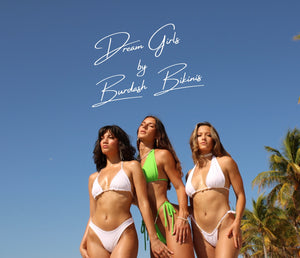 Dream Girls
---
Dream Girls // Burdash Bikinis SUMMER 2022
Inspired by the effortless elegance of pop culture's most iconic women, Burdash Bikinis Dream Girls summer 2022 collection is our interpretation of the everlasting yet ever-evolving "It Girl". 
Featuring timeless silhouettes and stunning details like hand-placed rhinestones and pearls, Dream Girls is Burdash's representation of radiant inner beauty, glamour, and female strength.
Buttery soft, sustainably sourced fabrics are hand-picked, cut and sewn with love to craft each unique bikini to fit every #BurdashBody beautifully. 
Every Burdash Bikini is created with the soul intention that every time you step into your swimwear, you step into your ultimate, most confident Dream Girl self. 
With love and gratitude,
Caity Burdash
Founder, Burdash Bikinis